Webster George MacDonald (1921-2008)
By Cliff Lamere December 2013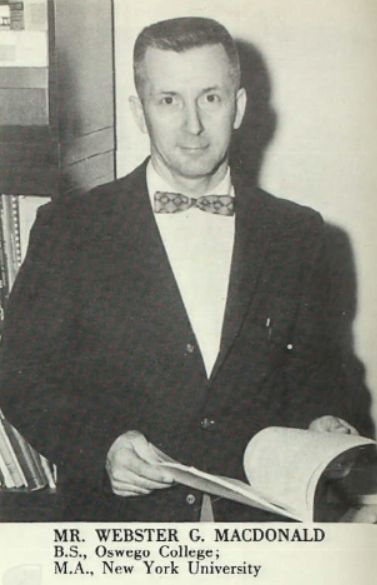 (1965 Bethlehem Central High School yearbook)
Webster George "Web" MacDonald was born May 1, 1921 in Fort Covington, Franklin County, NY. He was the son of George Harold MacDonald and Lottie Margaret Brown. At age 18, Web appears in the 1940 US census with his father (age 70), mother (age 47), and three siblings, Robert W. (age 21), Stewart J. (age 16), and Beverly Jean (age 13). They were living in Brushton, Franklin County, NY at the time.
After Web's birth in Fort Covington in 1921, he still lived there at the time the 1925 NY census was conducted. In 1930 (US census), he lived in the Town of Moira in Franklin Co., NY. According to the 1940 US census, he had moved to Brushton by 1935, and still lived there in 1940. Although Brushton in in the Town of Moira, it is not clear whether or not the family lived in Brushton in 1930.

Web was an ensign in the US Navy during World War II (Pacific Theater). Following the war, Web married Winetta Lois Ketchem in the city of Beacon, Dutchess Co., NY on April 6, 1947.
Web earned his bachelor's degrees at Oswego College (SUNY) and his master's degree at New York University. The Beacon Directory for 1948 shows that both Webster G. and Winetta L. MacDonald were teaching in New Paltz, Ulster Co., NY that year, although living in Beacon, Dutchess Co., directly across the Hudson River from the school. In 1949, Web was listed as still teaching there. Winetta L. was listed as his wife, but she no longer had a separate entry of her own. It appears that she was not teaching that year.
By the 1964-65 school year, Webster G. MacDonald was teaching Industrial Arts at Bethlehem Central High School in Delmar, Albany Co., NY. I joined the science staff at the Bethlehem Central Junior High School in September 1968. I taught Earth Science and Physical Science to ninth graders. One of my students was a daughter of Web. For the Physical Science units which involved electricity and Newton's Laws of Motion and probably others, I borrowed automobile parts from Industrial Arts. I got the students interested by explaining that it would not be long before the boys would own their own cars and I was giving them a chance to understand how they worked. I told the girls that boys will want to talk about their cars, and girls who understood cars had a better chance of dating those boys. Apparently, it worked. When ninth grade was moved to the high school (September 1969) I saw Web there. Sometime during that school year, he told me that I had taught more automotive information than he did. It was probably an exaggeration, but it meant to me that I had been somewhat successful in my first year at BC.
Bob Peters wrote the following: "I was a student teacher at BC under Web in the spring of 1970. He left BC in July or August 1970 and moved up to the Malone area and taught up there for a while, I think. I only saw him 10 or 12 times after that. I did go to his house about 10-15 years ago in Malone. That would be the last time I saw him. I was there with Pete Venditti, and also Dick Robinson. I tried some of the northern newspapers but found nothing about him. Hope this helps and I think you can go with the above information."
Web left Bethlehem Central at the end of the 1970 school year and moved to Malone, Franklin Co., NY. He probably taught there for a while.
From the Social Security Death Index
Name:

Webster

G.

Macdonald

Last Residence:
Brushton, Franklin Co., NY 12916
Born:
1 May 1921
Died:
23 Aug 2008
State (Year) SSN issued:
New York (Before 1951)
Webster MacDonald is buried in the Sunnyside Cemetery, Brushton, NY
1994-2002: lived in Brushton
1994-1996: lived in Owls Head, Franklin Co., NY
Sources:
Ancestry.com
1930 & 1940 US censuses
Brown Family Tree by MAPlover (link)
1965 Bethlehem Central High School yearbook
Social Security Death Index
Find A Grave memorial by Jim Vaugh
Visitors since 1 Feb 2015