Victor John Bachman
(December 18, 1919 - January 28, 2008)
Webpage by Cliff Lamere 19 Mar 2010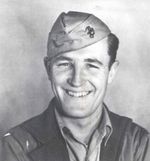 February 7, 2008
The Ritzville Adams County Journal, Ritzville, WA
Victor John Bachman
Victor John Bachman, 88, of Anacortes, died at his Anacortes home on Monday, Jan. 28, 2008, from a 15-year bout with cancer. He was born on Dec. 18, 1919, in Washtucna, the first of four sons and one daughter of Heinrich and Theopa Dempsey Bachman, of Irish and Pennsylvania Dutch heritages.
He grew up in Washtucna, graduating with honors from Washtucna High School, where he also played center on the football team, breaking his handsome aquiline nose twice. He graduated from Washington State University just prior to the Japanese attack on Pearl Harbor.
He and other classmates felt it their patriotic duty to join the armed forces. He enlisted in the Marines and served in the South Pacific, Guam, Samoa, New Zealand and was in charge of a force waiting to be the next wave on Iwo Jima. They were watching the action there from their ship when victory was announced and they turned back toward San Diego.
He retired from the Marines with the rank of Major. In 1945 he married Ruth Gouldin from Yakima. They spent a year at Northwestern University in Chicago where he earned a masterís degree in speech and drama. His first teaching position was at the college in Forest Grove, Ore. The following year he accepted a position at Whitworth College, where Ruth also taught physical education.
He took a break from academics for a while and sold life insurance before moving to the San Francisco area to earn a theological degree at the Presbyterian Seminary. His first charge as a pastor was the Presbyterian Church on Portrero Hill in San Francisco. He was appointed a professor of Practical Theology at the Seminary in 1960, shortly before Ruth passed away from cancer.
In 1962 he married Dolly Kissling. He retired from the Seminary in 1979 and took a pastorate at the Presbyterian Church in Anacortes. After retiring in 1987, the family moved to New York, where they were closer to Dollyís siblings, and they spent summers in Anacortes.
He loved boating in the San Juan Islands, as well as his view of Fidalgo Bay from their Anacortes home.
He is survived by his wife, Dolly; sons, Eric Bachman, Brian Bachman, Todd Bachman; daughter, Lise Karnes; as well as two grandchildren, Aaron and David.
A funeral service will be held at 11 a.m. on Saturday, Feb. 9, 2008, at Washtucna Community Church in Washtucna with Pastor Dennis Evans officiating. Visitation will be held before and after the funeral service. Interment will be at Washtucna Pioneer Cemetery. Memorials may be made in Johnís memory to Heifer Project International, 1 World Avenue, Little Rock, AR, 72202.
Arrangements are in the care of Evans Funeral Chapel and Crematory, Inc., Anacortes, WA. To share memories of John, please sign the online guest register at www.evanschapel.com.
Guest Book
Layne Bachman
Spokane WA
February 5, 2008 8:18 AM

Great, honorable man, I am honored to have known him and even more to have him as an Uncle. Loving Nephew Layne

Cami Allen
Puyallup WA
February 5, 2008 8:50 AM

My favorite memories of Uncle John and the rest of the Bachman uncles are when we would get together as a family (and it was a big family) when Grandma was still alive. How the uncles would tease her (and my mom)! Grandma would take it for a while and then she would start getting angry which is what they were aiming for - she was quite something when she was angry! They would let her get red in the face and fuming at which point Uncle John would go over and give her a big hug and she would start laughing. Uncle John gave great hugs and I love hearing his voice - it was big and beautiful. I will miss him.

Sara
Ellensburg WA
February 5, 2008 9:36 AM

Uncle John has always inspired me. His lifelong learning and melodious voice have been a light, when my life felt at a standstill. The stories I knew about his travels made me smile and remember that the road is there to be taken, if one simply takes the first step. I will miss him dearly but I will carry the beauty that Uncle John with me always.

Lance Bachman
Vancouver, WA
February 5, 2008 10:29 AM

Uncle John is a great man. He lives in my heart forever. Lance Bachman

Lise Bachman-Karnes
Stockton, CA
February 5, 2008 10:36 AM

He was my father and he will be sorely missed. He did a lot of great things in the many communities where he lived, but being a dad was very important to him and I always felt loved. People say I am like him and that makes me proud. Lise Bachman-Karnes

Randy Bachman
Benge ,Washington
February 5, 2008 4:01 PM

Uncle John was just as handsome as a young man, as he has been since I have known him. He will be greatly missed by all.

Kerry Bachman
Goldendale, Wa.
February 6, 2008 4:05 PM

My Uncle John has been and always will be a powerful father figure for me. I will miss him, but I will always smile when I think of him. He was handsome both physically and spiritually. I feel blessed to have known him. He new how to share life and love.

Eve Bachman
Cheney Wa.
February 8, 2008 2:43 PM

Great brother-in-law. He never forgot his home town. He loved ever rock & blade of grass there & in the surrounding area. There has been joy in heaven now that all 5 are there.

Evon Bachman Doyle
Pasco, WA
February 8, 2008 9:17 PM

I love Uncle John so much and respected him greatly. He had a way with words in his writing and in his public speaking. My most memorable moment with Uncle John was when he spoke at Dad's funeral. I was so torn up but his words brought comfort. It was evident the love he had for family. It's comforting to know he joins them once again in heaven.
[Sources of obituary: text & photo & Guest Book ]
Visitors since 19 Mar 2010