Choir of the First Church in Albany (NY)
Webpage by Cliff Lamere 24 Mar 2011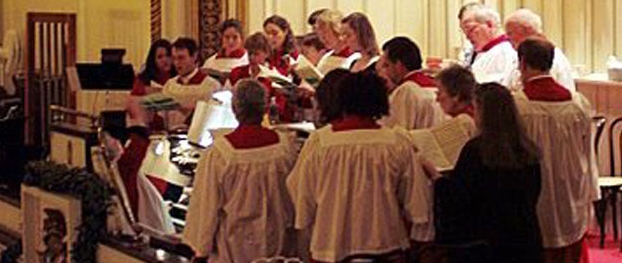 (L-R) Mary Bon (seated), Jessa Pagan, Peter Subers, Jillian Ziman?, Lisa Westman, Katherine Perti?,
Audrey Ming (low), Bette Jane Poulos (dark hair seen), Cheryl Gowie, Rose Hunsberger,
Wayne Sivaslian, Helen Gardner (low), Paul Coffey, Bill Staats.
The woman in black is Marey Bailey who was a deacon and for those duties could not to be in a robe.
Year about 2005. Photographer unknown.
[Source] The photo was captured from the home page of the Regional Synod of Albany (Reformed Church in America). It was part of a series of photos that rotated continuously.