Obituaries for Deceased Students of
Bethlehem Central High School,
Delmar, New York
by Clifford Lamere, Science Teacher (Sep 1967 - June 1991)
Webpage September 4, 2017 Revised December 18, 2017


Students who died while attending Bethlehem Central High School (25)

NAME

DEATH

DATE

BIRTH

DATE

AGE

CLASS

COMMENT

Stahl, Frederick B.

1937 May 16

c. 1923

16 /14

c. 1940

Article Not SSDI or SSA

Van Liew, Clifford S.
1943 Apr 1
c. 1926
17
c. 1944
Article Not SSDI or SSA
Applegate, George Anthony
1958 Jun 21
c. 1940
18
1958
Article (top left) YB Memorial Not SSDI

Leisenfelder, Peter J.

1961 Apr 6

c. 1943

18

1961

Link, Peter V. Jr.

1957 Dec 17

c. 1943

14

1961

Obit below. YB Memoriam Died while in Ninth Grade at the Junior High School. That grade later moved to the high school, so Peter is included here.

Newell, John M. 2d

1961 Apr 10

c. 1943

18

1961

Snyder, Barbara Ann
1957 Dec 12
c. 1943
14
1961
Obit below. YB Memoriam Died while in Ninth Grade at the Junior High School. That grade later moved to the high school, so Barbara is included here.

Hammond, William

1961 Apr 6

c. 1944

17

1962

Baker, Cheryl Ann
1963 Jan 20
c. 1946
17
1963
YB memory & photo Not SSDI or SSA

Geel, Marion Elizabeth

1969 Jan 29

1952 Dec 23

16

1971

Elbow, Anne Gibson

1970 Aug 9

1954 Aug 31

15

1972

Gammel, John A.
1971 Nov 28
1955 Sep 16
16
1973
YB Memoriam Gravestone
Wyatt, Henry
---
c. 1959
--
1976
YB Memoriam

Isachsen, Craig A.

1978 Oct 5

c. 1961

17

c. 1979

Article Not SSDI or SSA

Shipp, Leland P.

1978 Oct 5

c. 1961

17

c. 1979

Article Not SSDI or SSA

Mitchell, Jeffrey

1986 Jul 29

1969 Sep 14

16

1988

Obit-pg28 YB memorial Driving alone in a stolen car.

Quinn, Cathleen Marie

1987 Aug 6

c. 1972

15

1989

Cox, Erin M.

1992 Aug 26

1976 Mar 21

16

1994

Article2-A SSA

Smith, Timothy Jarod

1996 Feb 22

c. 1978

18

1996

Not SSDI or SSA

Baron, Lindsey

1996 Jul 2

c. 1980

16

1997

Jukins, Andrew D.

1993 Dec 16

1979 Jun 1

14

1997

Whiting, Sarah Renee

1996 Nov 2

1982 May 17

14

2000

Stanton, Colin Newall [not Newell]
2003 Feb 20
1985 Oct 26
17
2004
Obit (photo) Obit-pg18 Obit-A SSA

Halbedel, David P.

2003 Feb 20

1987 Apr 21

15

2005

Van Denburg, Ryan D.

2006 May 13

1988 Feb 8

18

2007

Gould, Alexander Raymond

2007 Nov 23

1991 Jun 16

17

2009

McHugh, Jacqueline E.

2007 Nov 23

1991 Jun 16

16

2009
Baker, Cheryl Ann -- [Published 1/22/1963 in The Knickerbocker News, Albany, NY]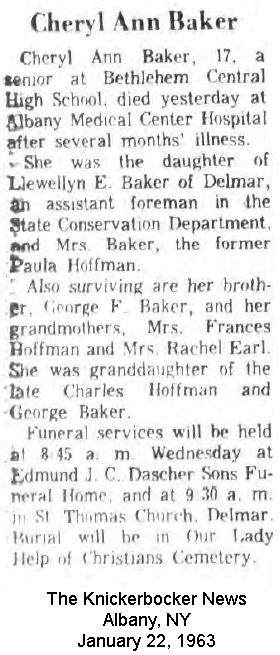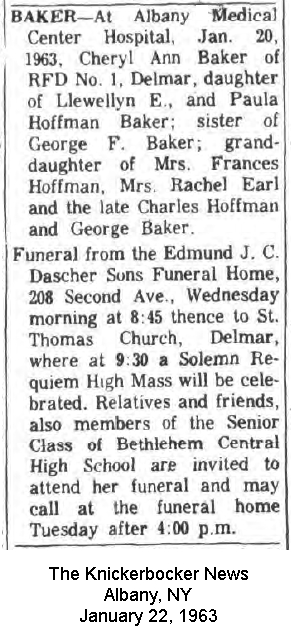 Cox, Erin M. -- [Published 9/2/1992 in The Spotlight, Delmar, NY]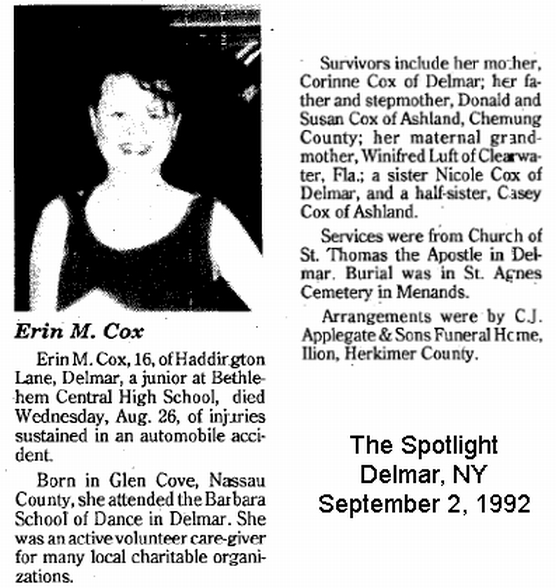 Elbow, Anne -- [Published Sunday 8/16/1970 in the Times Union, Albany, NY]
2 From Area Identified As Peru Crash Victims
The bodies of Anne Elbow of Delmar and Kim Miller of Corinth, who were killed in a plane crash in Peru five days ago, have been identified.
The total of identified bodies from the crash has now reached 10.
The Peruvian, government will not allow the bodies to leave the country for burial or allow them to be buried in Peru until a death certificate has been issued. And a death certificate cannot be issued until the bodies are identified.
Ann Elbow is to be buried in Peru at the request of her parents, Mr. and Mrs. Mathew Elbow.
Regarding the problem of getting the bodies out of the country for burial, the founder of a cultural exchange program between Peru and the United States, Mrs. Mildred Brown of Buffalo, criticised the government for the delay.
"They know these children were killed in this accident," she said. "There should be no hang-up as far as getting a death certificate. I think it is unbelievable . . . the red tape."
Miss Elbow was one of 49 teenagers among 99 passengers killed when a Peruvian LANSA propjet crashed into a mountain near Cuzco, 310 miles southwest of Lima Sunday.
[See next, written by her younger sister.]
Geel, Marion Elizabeth -- [Published Friday 1/31/1969 in the Altamont Enterprise, Altamont, NY]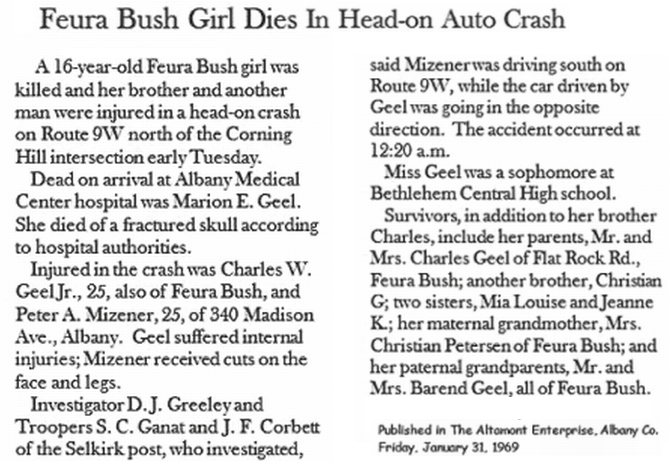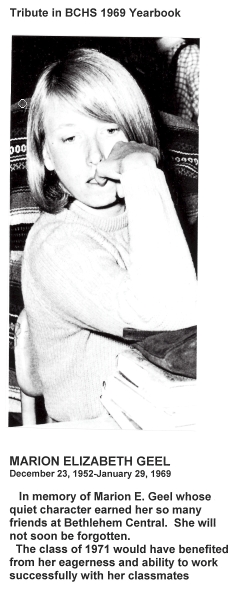 Gould, Alexander & Jacqueline McHugh -- [Published 11/25/2007 in The Spotlight, Delmar, NY] [Source]
Two Bethlehem teens die in fatal car crash
Tragedy has struck three Bethlehem families following a double fatal car accident that killed two teenagers and critically injured a third.
Jacqueline McHugh, 16, of Chrisken Drive, Glenmont, and Alexander Gould, 17, of Jacob Drive, Delmar, were killed when the car they were in struck a tree off Meads Lane Friday evening, Nov. 23, after veering off the road. A third person in the 1992 Acura, Brian Wood, 16, of Beacon Road, Glenmont, who was in the back seat of the car at the time of the accident, is the only survivor listed in critical condition at Albany Medical Center.
Bethlehem police believe speed was a contributing factor in the crash that continues under investigation. The accident occurred around 9:30 p.m. Friday and has shocked many in the Bethlehem Central School District.
Our entire school community is saddened and diminished by the loss of Jacqueline McHugh and Alexander Gould, said school Superintendent Les Loomis.
McHugh was a junior at Bethlehem Central High School who, according to Principal Chuck Abba, was very popular among her peers and friends and `very well respected.`
`She just had a special warmth,` said Loomis.
McHugh was studying computer applications. She was also employed at Delmar Place where she served in various capacities.
School officials termed Gould a real `success story` and someone who was able to complete his G.E.D. through his determination and hard work.
`He loved art and had a special ability as an artist,` said Loomis. `He was always straightforward and respectful to everyone around him.`
The high school crisis intervention team is being made available to students in need of support.
Bethlehem police Lt. Thomas Heffernan said both McHugh and Gould, the front seat passengers, were wearing seat belts at the time of the accident. Officials could not determine if Wood was wearing his. Toxicology reports will not be back for several weeks.
`The accident reconstruction could take several days to determine if there were other contributing factors,` said Heffernan.
Funeral arrangements for McHugh and Gould will be made by The Applebee Funeral Home of Delmar. A Mass will be held for McHugh at St. Thomas the Apostle Church in Delmar, Tuesday, Nov. 27, at 9:30 a.m.
Hammond, William & Peter J. Leisenfelder & John M. Newell 2d -- [Published October 31, 1961 in the Knickerbocker News, Albany, NY]
$16,000 Settlement In Car Crash Death
The parents of one of three Bethlehem Central High School pupils who died of injuries after an auto crash on Font Grove Road last April 6, have been paid a settlement of $16,000, according to papers filed in Surrogate's Court today.
The insurance company which issued the policy on the car driven by one of the three victims agreed to pay the amount for the death of John M. Newell 2d, who was 18 when he died in Albany Medical Center Hospital four days after the accident.
Killed in the crash were Peter J. Leisenfelder, 18, the driver, and William Hammond, 17. Three other youths survived after the light car hit a tree.
Newell was the son of Mr. and Mrs. Ernest Newell of Wemple Road, Glenmont. In addition to his parents, he left three brothers.
Leisenfelder was the only child of Mr. and Mrs. Peter J. Leisenfelder, 376 Wellington Road, Delmar. The father owned the car.
Hammond was an orphan and lived with relatives at Magee Road, Glenmont.
The papers in Surrogate's Court show that Ernest Newell, acting as administrator of the estate of his late son, agreed to accept the amount from the insurance company representing Mr. Leisenfelder and "the estate of Peter J. Leisenfelder Jr." The law firm of Maynard, O'Connor & Smith handled the negotiations.
Isachsen, Craig A. & Leland P. Shipp -- [Published Friday 10/13/1978 in the Altamont Enterprise, Altamont, NY]
2 BCHS Students Killed; Motorcycle Hits Car
Two Bethlehem Central High school students going to school were killed last Thursday when their motorcycle collided with a car.
Craig A. Isachsen, 17, of 13 Maywood Rd., Elsmere, the motorcycle driver, and Leland P. Shipp, 17, of 65 Burhans Pl., Delmar, were both dead on arrrival at the Albany Medical Center hospital after police said their motorcygle [sic] collided broadside with a car driven by Kenneth D. Mosher, Jr. of Royal Blvd., Delmar, at Delaware and Kenaware Aves. in Delmar.
The motorcycle was westbound on Delaware Ave. and struck the passenger side of Mosher's car as Mosher was making a left turn from Delaware Ave. onto Kenaware Ave., police said.
Shipp, a member of the Bethlehem Central High school golf team, had worked as caddy master at the Normanside Country Club for the last two years.
He is survived by his parents. Frank R and Letitia Shipp of Delmar; a brother Lawrence Shipp of Delmar; a sister, Sandra L. Shipp of Delmar, and his grandparents, Mrs. Leland Shipp of Carbondale, Colo., and Mr. and Mrs. Thomas W Pinney of Bloomfield Hill, Mich.
Funeral services for Isachsen were held Saturday afternoon at the Church of St. Thomas the Apostle, Delmar, under the direction of the Lasak and Gigliotti Fuiieral Home, Albany.
Link, Peter V. Jr. -- [Published 12/19/1957 in the Knickerbocker News, Albany, NY]
Peter link
Funeral services will be conducted Saturday for Peter V. Link Jr., 14, of 14 Vagele Le., Glenmont, who died Tuesday of a fractured skull suffered when his bicycle was struck by a car in Route 9W. The youth was a pupil at Bethlehem Central Junior High School.
He is survived by his parents, a sister, Catherine, his grandfather, Peter Link, his grandmother, Mrs. Gertrude Sidoti, and his great-grandfather, Michael Gimber.
Services will be conducted at 9 a. m. in the Edmond J. C. Dascher Sons Funeral Home, 208 Second Ave., and at 9:30 in St. Ann's Church, Burial will be in Our Lady Help of Christians Cemetery.
Mitchell, Jeffrey -- [Published 8/6/1986 in The Spotlight, Delmar, NY]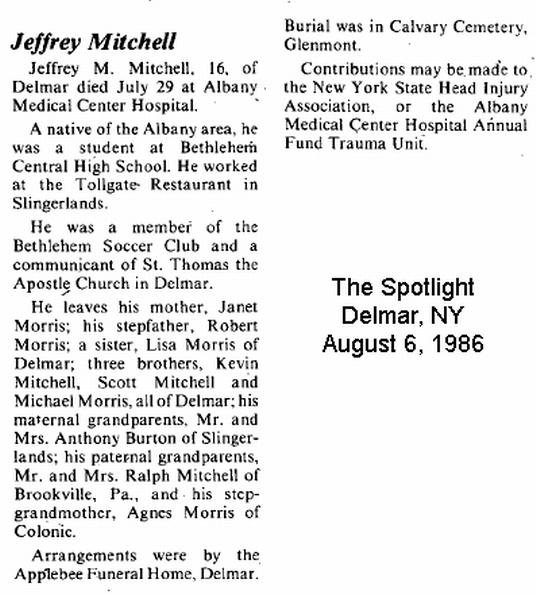 Quinn, Cathleen Marie -- [Published 8/19/1987 in The Spotlight, Delmar, NY]
[Read article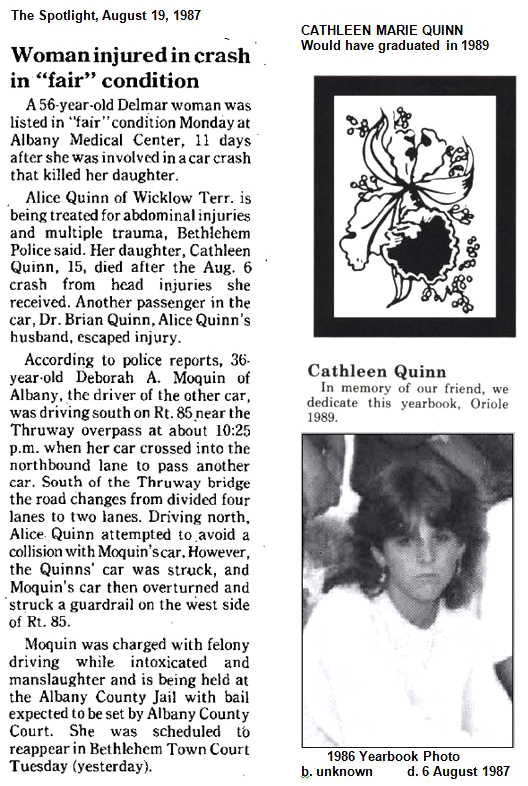 DRIVER IN FATAL ACCIDENT FACES 3RD DRINKING-DRIVING CHARGE
After two convictions for drinking and driving, Deborah A. Moquin of Albany temporarily lost her driving privileges. Now, following her third
alcohol-related arrest in less than five years, Moquin is being blamed for causing the death of a 15-year-old Delmar girl.
Kathleen Quinn, who would have entered the 11th grade next month at Bethlehem Central High School, was riding in the back seat of her parents'
station wagon on the Slingerlands Bypass (Route 85) late Thursday night when Moquin's car veered into the wrong lane and struck the Quinn car, according to police.
Moquin, 36, of 7 Magnolia Terrace, Albany, was arrested by Bethlehem Police Officer Tim Beebe following the accident and was charged with felony driving while intoxicated, vehicular manslaughter and failure to keep right.
Kathleen's mother, Alice Quinn, who had been driving the station wagon, suffered serious internal injuries and underwent spleen-removal surgery at Albany Medical Center Hospital early Friday. Hospital officials said Friday night that she was in the intensive care unit, but that no condition report
would be available until today.
Dr. Brian Quinn, Kathleen's father and a well-known orthopedic physician who had been riding in the front passenger seat, escaped serious injury, police said.
News of the Kathleen Quinn's death sent shock waves through Delmar. "For a 15-year-old girl, Kathleen was amazing," said a grief-stricken Lynn
Dente, who operates a Delmar stable where the Quinn family boards horses. "It was more like you were dealing with somebody who was 25 years old. She was extremely considerate. And although she was an excellent rider, she was never the type to brag. She never complained."
"Kathleen was tremendously popular in this community," said Ray McCluskey, another acquaintance of the family. "She was a super kid. She took the Regents exam recently and scored very high. It's just plain terrible for someone 15 years old to no longer be here because someone else has done something tragic."
Moquin had been driving south on Route 85 in a 1985 Buick sedan, on a stretch of the road that narrows from a four-lane highway to two lanes, when she apparently passed another southbound vehicle, but failed to return to the southbound lane as the Quinn car approached from the opposite direction, police said. Moquin's car hit the Quinn car, forcing it into a guardrail, and then flipped over, landing on the roof, Bethlehem Police Lt. Richard L. Vanderbilt reported.
Vanderbilt, the department's traffic unit supervisor, said rescue workers removed Moquin from her car and took her to Albany Med, where she was treated for minor injuries and released.
About 3 a.m. Friday, Moquin was arraigned on the charges in Bethlehem Town Court.
Moquin was then taken to Albany County Jail, but was escorted by jail guards later Friday to St. Peter's Hospital after she complained of pains, authorities reported. She was listed in fair condition late Friday.
Police said they were still attempting to determine where Moquin had been drinking before the accident. She was believed to be headed to her Albany home at the time of the crash, police said. The DWI charge was based on observation by police. Police did not conduct a breath test on Moquin and are awaiting State Police laboratory results on a blood sample to determine her blood-alcohol content.
Moquin, according to state Department of Motor Vehicle records, was arrested in November 1982 in Troy on a charge of driving with ability impaired by alcohol. She was convicted of that charge in February 1983, and her license was suspended.
Moquin received a conditional license in March 1983 and had her full driving privilege restored three months later, only to have it automatically
revoked in June 1984 after her arrest on a DWI charge following an accident in Troy one month earlier.
In that accident, Moquin was injured when she struck a parked car, Troy police records show. She was fined $350 in Troy Police Court following that
DWI conviction.
She had her full driving privileges restored when DMV reinstated her license Nov. 6, 1986.
Doris Aiken of Schenectady, founder of Remove Intoxicated Drivers, said the Moquin case shows "we're not dealing with the problem of drunk drivers. This woman shouldn't have had a license in New York. We're much too relaxed on giving people their licenses back."
Denis P. Foley, director of Albany County Stop-DWI, said the problem of social drinkers causing accidents appears to be waning while problem drinkers are becoming increasingly involved in fatal and serious-injury accidents. "We're finding that the repeaters are the real problem now," Foley said. "The progression of the disease of alcoholism gets worse and worse, and they seem to have no regard for any type of sanction because their drinking is out of control."
The accident bore several similarities to another Slingerlands Bypass fatality, one in 1982 that claimed the life of 20-year-old Michele Martin of
Glenmont. She was killed, about 200 yards from the scene of Kathleen Quinn's death, when a driver with a record of DWI and speeding arrests swerved into the wrong lane of travel and struck her car head on.
Kathleen was the youngest of the Quinns' six children, according to friends of the family. The Quinns were headed to Albany County Airport Thursday night to pick up one of their sons, David, who was coming home for a visit.
Annette Forester, a friend of the Quinns, said tearfully: "Kathleen was just a happy-go-lucky kid. She was full of life. She was just one of those kids you took to right away. I can't believe she is gone."

Snyder, Barbara Ann -- [Published December 13, 1957 in The Knickerbocker News, Albany, NY]
SNYDER -- At Albany Hospital Dec 12, 1957, Barbara Ann Snyder, age 14, daughter of Mr. and Mrs. Charles W. Snyder Sr., of Clarksville, N.Y., sister of Mrs. Stanley Mowers of Catskill, Charles W. Jr., Patricia, Donald and James Snyder. Funeral Monday at 2 p.m. from the Hannay Funeral Home, Clarksville, N.Y. Friends may call Saturday and Sunday evening.

Stahl, Frederick B. -- [Published May 15, 1937 in The Saratogian, Saratoga Springs, NY]
DIES OF INJURIES
ALBANY -- Frederick B. Stahl, 16, Bethlehem Central High School pupil, died in a hospital here today of injuries suffered when struck Thursday by the automobile of Woodrow Harper, Slingerlands. The driver was not held.
[NOTE: The same article said he was 14 when it appeared in the Utica Observer-Dispatch (NY) on May 16, 1937.]

Van Denburg, Ryan D. -- [Published 5/16-17/2006 in the Times Union, Albany, NY]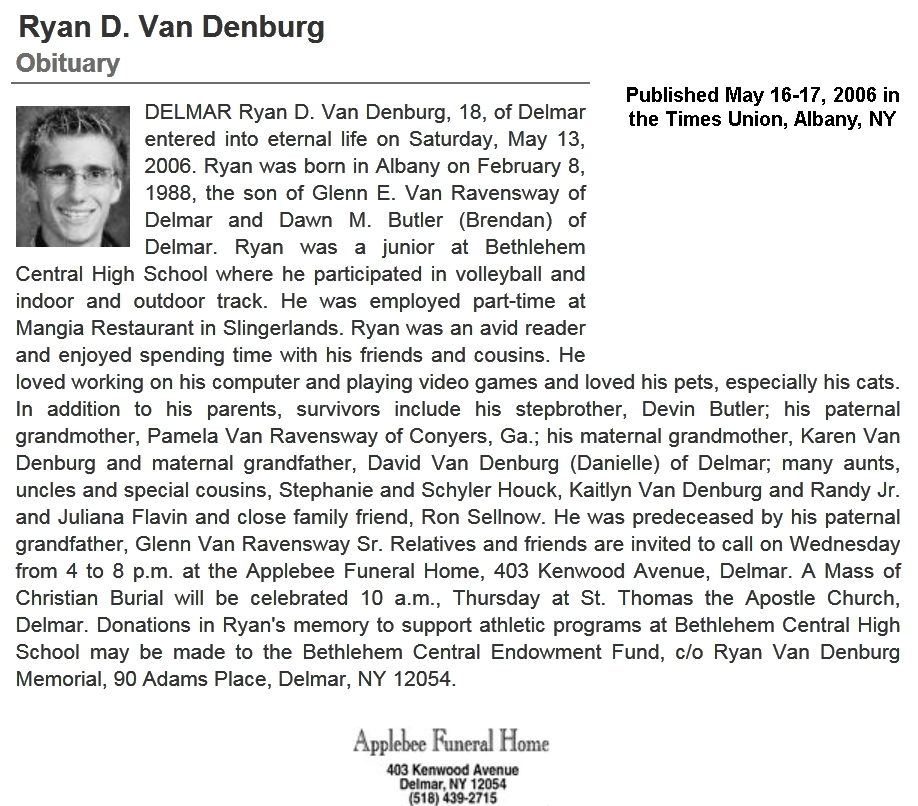 Van Liew, Clifford S. -- [Published 4/2/1943 in the Knickerbocker News, Albany, NY]
Car Operated by Friend Kills Delmar Schoolboy
Clifford S. Van Liew, 17, of 24 Gardner Terr., Delmar, was killed last night by an automobile driven by a young friend two hours after he had given up his carrier route for The Knickerbocker News.
Returning from a rehearsal of Blanchard Post Drum Corps, in which he had just been made a sergeant, Van Liew stood at the edge of Kenwood, near
Borthwick, handing candy to two friends, when he was struck.
Trooper Ralph Travis of Delmar said the car was driven by Richard Halsdorf, 17, of 57 Cherry St., Delmar, one of Van Liew's school chums and newly elected co-captain of the Bethlehem Central School basketball team.
Van Liew died before reaching Albany Hospital in the Delmar Rescue Squad ambulance. His injuries included a fractured skull and a broken leg.
A bugler in the drum corps, Van Liew and two other members of the band, Richard Sheldon, 13, of 15 Gardner Ter., and Charles Quay, 12, of 10 Albright Pl., Delmar, were dividing some candy they had bought.
"We didn't see or hear the car coming," Sheldon said today. "I must have been hit, too, because I suddenly woke up lying on the grass."
He had bruses [sic] on his left leg and cuts on one hand. Quay was not hit. Both said they were standing beside the road, holding their bicycles, while Van Liew was standing on the road.
Halsdorf told Trooper Travis he did not see the three boys until too late to avoid hitting them. Riding with him was Richard Simon, 16, of Darroch Rd., Delmar, who yesterday was named salutatorian of the Bethlehem Central senior class.
Van Liew gave up his paper route last night in order to devote more time to operating the motion picture projector at the Delmar Theater.
Surviving are his parents, Mr. and Mrs. Roland Van Liew Sr.; a grandfather, Edward Van Liew, Delmar; a brother, Pvt. Roland Van Liew Jr., Fort Bragg, N. C., and a sister, Thelma Van Liew. Funeral services will be at 2 p. m. Sunday in the Applebee Funeral Home.


Visitors since 19 Sep 2017